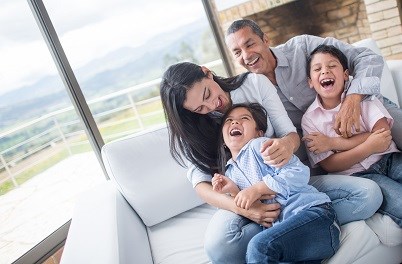 We all love our family the most and do everything possible to keep them happy and in good spirits. Every relationship nurtures in a way, of giving space to each other, yet at the same time, showing our love, affection and care in every way possible. While this is a subjective matter, somethings in a relationship are obvious for us. For example, you (as a breadwinner of the family) can show your care by giving your spouse and children a perfect opportunity to tread in life, in an emotionally and financially secure way.
It is likely that you are giving the best to your family and children. It includes the best education, best life style, more time as a responsible parent and every small thing they desire.
Aspirations Need Money
A bigger responsibility towards them is to secure sustainable development?
There can be two indicators of life's continuous development. One is good health and the second, secured access to money. Without a commitment to securing health and wealth, as a breadwinner of the family, you are unintentionally doing a half-baked job.
For example, what good is your hard-earned income or saving if every penny is diverted towards your healthcare needs in a time of a medical emergency?
But, is it possible for anyone to be prepared for every contingency in life?
Especially when these contingencies may cost the same as your family's aspirations, it is not possible to brace yourself financially from day one.
However, there are few things you can do:
Develop Healthy Lifestyle
Health is irreplaceable. You may outsource all the daily chores of your life but not health. Therefore, as parents, it is an added responsibility that you develop and follow a healthy lifestyle for your kids and self.
A healthy lifestyle is simple and even financially inexpensive to maintain. Healthy food, routine, with add-on physical exercise, will not only help your family become healthier but also make them more active.
Medical Check-up as Routine
Along with the precautions with lifestyle, regular medical checks play a crucial role in maintaining health and keeping healthcare costs low.
The idea is to catch the illnesses midway before they become a sore to life and expensive to treat.
Just to reiterate the importance of regular health checks, "in most cancer cases, the patient is diagnosed at a late stage, because they did not have a regular medical record."
Critical illnesses like cancer are not untreatable but, late diagnosis leaves a very small window for doctors to treat the disease. Not to mention the cost of treatment could be more than your annual household income.
Buy Insurance Plans
Buying insurance is the best way to stay prepared for dire circumstances. Following insurance policies should help you in safeguarding the aspirations of your loved ones from these diseases:
• Family Floater Health Insurance Plan: A Mediclaim which reimburses the hospitalisation expenses, along with few day-care treatments (check for the procedures covered before buying)
• Critical Health Insurance: Covers life threatening conditions like cancer, heart ailments, renal failure etc.
• Cancer Insurance: A disease like cancer should be identified and treated in the early stages. However, the cost could still be high enough to spoil your plans. Thus, a special plan for cancer, which will cover you financially in every stage of cancer infection.
• Term Insurance: A pure life cover as the final option to ensure financial stability for your dependents.
Life with Insurance
So, what happens when life or a health calamity strikes you? Now, at the first thought, you may think- what will happen to me. I'm well-settled in life and that, I'm earning well, giving them all that they need as far as possible.
But, how far have you thought? How far have you thought about the safety or financial security of your family vis-a- vis your health and life?
Life is uncertain, and given the hectic pace of life and the environment we live in, certain critical likenesses like cancer have become a close reality now. Therefore, we need to consider our health and our future related to it carefully.
To begin with, when devastating news like a cancer diagnosis happens to us, it can both emotionally and later, financially decimate our lives. To reduce the emotional anxiety, you need to get the best possible treatment backed by a specialised financial plan.
How to Buy Cancer and Other Insurance Plans?
You can buy cancer insurance plan online, including family floater health insurance and term insurance covers. Online mode makes it easy to compare the features and costs before filing the proposal. Plus, it saves time and money, as you can deal with the insurer directly. However, just in case you prefer a personal connect, you can leave your contact number on the insurer's website. Their representatives will connect with you and explain everything before you buy.
["source=futuregenerali"]