In this digital age, banking is at your fingertips, online and on the go. If you are looking to avail of a loan — say, to purchase a car, a house, higher education, for business, or personal reasons — you don't need to visit the bank personally. You can apply for a loan online sitting in the comfort of your home, office, café, or wherever you are.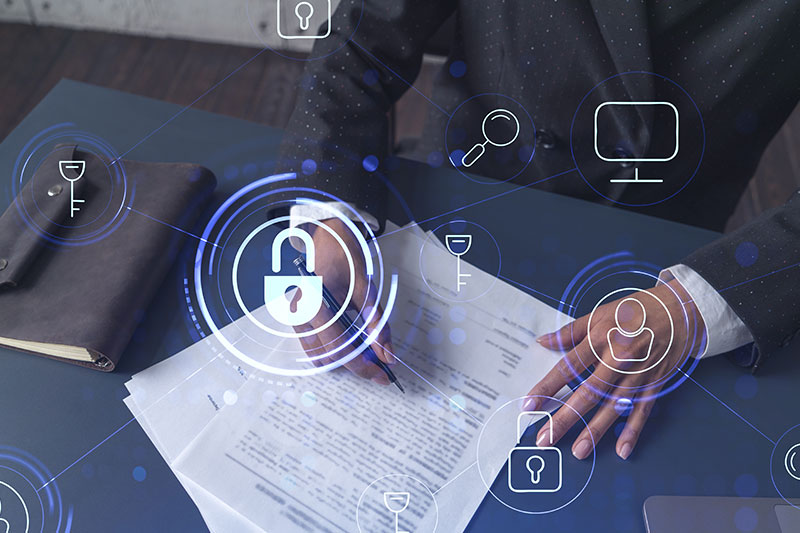 However, given the rise in cases of cyber fraud, it is necessary to be cautious while availing of a loan online. Here are a few things to keep in mind when applying for an online loan:
(1) Avoid using shared computers and public Wi-Fi – Performing online banking on shared computers and public places, viz., cybercafés, e-libraries, etc., may make you a victim of online fraud. A fraudster can easily steal information such as your email id and other financial data if the shared computer's 'auto-complete' function is on. Hence, always delete the browsing history, cache, and temp files once you use the shared machine to avoid misuse. Also, always log out after completing the transaction and don't leave your laptop/desktop/tablet unlocked.
Additionally, when you using your smartphone to apply for an online loan, avoid using unsecured public Wi-Fi. Instead, use your personal Wi-Fi or 4G/5G connection. Even then, do not save any critical information on your smartphone. It is also advisable to turn off your Bluetooth and GPS feature to avoid the chances of your data being shared.
Avoid accessing net banking in crowded places such as train/bus, etc, where it is easy for a person near you to view your details.
(2) Access only authorised secure portals, official apps – There are may be fake websites similar to your bank/lending institution. These could be page-jacked or masked to give a genuine look and feel. Hence, make sure that you access only the genuine or official portal of the bank/lending institution when availing of a loan online.
Ideally, type the official URL of the bank in the address bar of the browser. Secure websites have a padlock in the URL and a valid SSL certificate. Check Axis Bank's online banking page and website.
Avoid using links shared on your email id or as a text message; you could be a victim of phishing or smishing. Fake emails shared by cons to trick you are referred to as phishing, while if it is in the form of text messages, it is called smishing.
When using mobile banking to avail of a loan, make sure to use the official mobile banking app and keep updating it. These days scammers even create lookalike apps to misguide and con you, so be careful. Hence, when giving permission/consent while downloading any app, be doubly sure that it is a genuine app of a recognised financial institution.
Also, avoid taking customer care numbers from Google search without establishing the authenticity of the number. Many of these numbers could be fake ones. Instead, call the numbers available on the respective bank's official website.
(3) Be careful while uploading documents, making payments online – When applying for a loan online you may need to upload certain documents such as PAN, Aadhaar, bank statements, etc. These documents contain vital financial information. If they aren't uploaded on the bank's official website they may be misused.
Similarly, be careful while downloading documents such as loan application form, etc. Otherwise, you may fall prey to a virus attack which may lead to identity theft, data theft, spying or tracking user activity, crashing of your computer/laptop/smartphone and so on. To prevent this, install a firewall and licensed anti-virus, anti-spyware software and update it regularly.
Similarly, if you are asked to pay money, for instance, processing charges, verify if the fees or charges are genuine before making the payment.
(4) Beware of fake promotional calls – These days voice recorded calls or calls from telemarketers offering loans are very common. While some may be genuine, many could be fake and may try to steal your data. This is referred to as vishing. Therefore, avoid entertaining such calls and sharing personal information on such calls.
(5) Register your mobile number and email id with the bank – By doing this you can get regular updates about your financial transactions. It will also help you track your loan application status and get other timely updates. If you see any discrepancies, you can contact the bank immediately to avoid fraud.
(6) Keep your PINs and password strong – Always keep your PINs and passwords strong (ensure it is unique, uncommon, use capital letters, numbers, and acceptable special characters). Avoid setting passwords that are easily relatable to you, like your date of birth, phone number, etc. Moreover, keep changing them every few months.
Use the two-factor authentication, wherever applicable, as an enhanced security measure. Never share your PINs, passwords (including OTPs), CVV number (Card Verification Value) with anyone, not even bank officials, no matter how much you know and trust them. And as mentioned earlier, do not 'auto-save' your password on the browser or the mobile banking app on your smartphone. Or else, the critical information may be misused if you ever need to give your device for repair or exchange it.
When you are using the online facility to avail of a loan — or performing any other banking transactions – be aware of your actions. While "do it online" is the mantra today, be alert, smart, and safe.
["source=axisbank"]