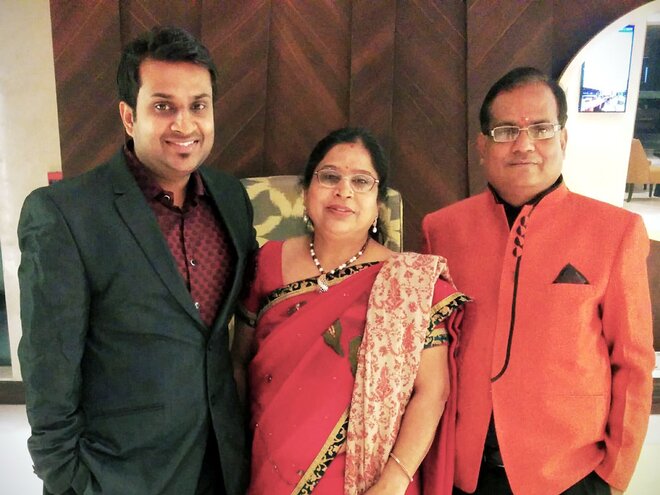 Any son will admit that making his father accept something new is one of the toughest challenges in this world. Mothers are naturally open to suggestions. They are wired differently. But, no, not the fathers. When your father holds a strong view on the subject, it is doubly difficult to make him see your way. All of us have tried it; it either turns into an undesirable argument or is met with steely silence. It is for this reason alone that we must know the interesting story of a spirited Shailesh Bansal, who is all of 30 years. He achieved the impossible. Shailesh convinced his father that 'mutual funds sahi hai' and that resulted in senior Bansal moving his investments from the bank fixed deposits and PPF to mutual funds. Read on.
Hailing from a typical Marwari business class family wherein the value and importance of money is taught since childhood, Shailesh was no stranger to finance. But he has always tried to experiment with new things. He did his engineering from VIT, Vellore in Biotechnology. He worked for 2 years with Cognizant, Pune as a developer and later joined a full-time MBA course at TAPMI, Manipal because Shailesh wanted to broaden his horizon about various aspects of a business. Though reading various articles, books, and blogs on investments, is a new-found hobby, Shailesh loves a good adventure. The thrill-seeker in him has done sky-diving, scuba diving, river rafting, taken Enfield road trips in Kerala & Nepal, jungle night trekking…the list is endless. His to-do list now has bungee jumping!
The adrenaline rush from doing exciting things is understandable. For many, stock investing gives them a 'kick'. The lure of stocks is hard to resist. But, Shailesh's father held a different opinion on direct stock investing. It is pure gambling, the senior Bansal would warn. Stories were narrated about how relatives lost their money in share markets. But the son had other ideas. "I remember buying my first equity investment of 10 shares of Tata Motors at Rs 140 in 2011. Due to no knowledge of how markets work, I sold it off as soon as it touched Rs 150. All because of the fact that markets are a gambling bazaar & I didn't want to lose my hard-earned money from my first salary," Shailesh quips.
Being from a conservative family, Shailesh had always seen his parents investing only in LIC Jeevan Anand plans, FDs, NSC etc. But the mutual fund revolution was too big to be ignored. Shailesh started his mutual fund investment in September 2015 and it was in 5 funds all of which were direct and growth plans. ABSL Frontline, Canara Robeco Emerging Equities, HDFC Mid Cap Opportunities, Franklin India Smaller Companies, and ICICI Prudential Value Discovery were his first funds. "To be frank, all of these were based on VRO's ratings and past 1-, 3- & 5-year return performance ranks. I opted for mutual funds as my first sound investment after reading lot of articles on VRO and other blogs regarding having an equity exposure via mutual fund route," Shailesh says. Due to the ensuing bull run between 2014 to 2017, most of his funds gave handsome 15-20 per cent annualized returns.
Shailesh had been bitten by the mutual fund bug, and hard. He took up goal-based investing. One of his primary goals is to go on a lavish Euro trip with his wife before he turns 40. "For this, I would require a minimum corpus of Rs 10-12 lakh. I want it to be solely taken care by my equity/mutual fund investments," he says. His portfolio currently has 55 per cent money in mutual funds, 35 per cent in stocks and the rest 10 per cent in bank FDs.
His father used to invest solely in PPF for tax-saving purposes. Recently, his father asked Shailesh to move his investments to mutual funds. It was a magical moment. "I can guarantee that this is not because of all those 'mutual funds sahi hai' ads. It's because dad knows how much time and energy I'm giving in learning and overcoming fears about the market. He is my dad after all, he knows when am I going on the right path," says the proud son. To save tax, senior Bansal has been putting 100 per cent amount in ELSS now. Thanks to Shailesh, his father understands the associated risks and is quite willing to hold the investments for the long term. In fact, whole Bansal family now invests solely in ELSS for tax saving purposes.
Investing has also made Shailesh profound. One of the important things about investing is to identify your mistakes. Shailesh quickly realized his follies, once he started reading and seriously following investing principles. "…I used to invest in companies based on recommendations from various Twitter handles, newspaper etc. Also, I used to track bulk/block deals daily & invested heavily into companies if any star investor picks it up," he says. After losing some money, Shailesh realized that this was not the way how it works.
After reading a lot of books on investing like Peter Lynch's One Up On Wall Street, The Five Rules for Successful Stock Investing by Pat Dorsey, and William J. O'Neil's bestseller, How to Make Money in Stocks, Shailesh's world changed. "My attitude towards equities changed completely. From an initial mindset of treating it as an arena, I now know that you need just two things to make money here – conviction & patience. Conviction is being provided by VRO Stock Advisory and patience is something which I have incorporated into myself," he avers. As a proof, Shailesh stopped checking his portfolio on a daily basis. He has made a habit of stock SIP investing into the recommended stocks every 25th of the month.
He came across VRO Stock Advisory in December 2017. Initially, he signed up for a 1 -year plan but as he went through the content and the research thesis on the recommended stocks, Shailesh immediately requested for an extension and paid up the balance amount to subscribe for a full 3-year period. His love for stocks is only preceded by his passion for mutual funds. "It was only after reading various articles by Mr. Dhirendra regarding the number of mutual funds in one's portfolio, I trimmed down my mutual funds from once 6 to just 3 now. I even narrowed my category selection. From previously investing into each of mid cap, small cap, large cap, multi-cap (now flexi-cap), tax saver, I now just run 2 major SIPs each in 1 Multicap (now Flexi-cap) and 1 Tax saver fund. After his recent article on investing into international companies, I am planning to take a small SIP in PPFAS too," Shailesh says, like an obedient student.
Shailesh won't stop waxing eloquent about VRO Stock Advisory. He gradually sold off other stocks which he had little clue about. "I didn't want to own any company of which I am not clear about or how it works and what it makes. From the very first day, I was clear about acquiring the recommended stocks in bits and pieces. I knew that the markets are already overvalued but nobody knows when it will bottom out. In relation to this, I was clear that the only way to beat current market valuations and the daily fluctuations was to do a SIP in recommended stocks," the young investor says.
Shailesh says that mentally he was already prepared that he is not going to get decent returns till the next 5-7 years of his investments. He currently holds all the VRO Stock Advisory's recommended stocks. He was holding ITC since last 1 year and after a full year of consolidation, it finally gave him returns of more than 20 per cent (excluding dividends). It appears that his patience has already started to pay off.
["source=valueresearchonline"]